I think every mom knows that when you put a bunch of kids together for an extended period of time every day, germs, cooties and sickness are bound to happen. I've sort of been dreading this since this is our first-ever school year.
Lysol
was kind enough to send me a few great products to help keep the house and classroom germ-free and they want to give you some too!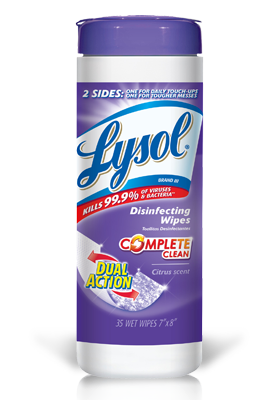 I have to say, for the most part I tend to go as natural as possible when it comes to cleaning, but sometimes you just need a quick, easy way to clean up and know that what you are cleaning is actually disinfected.
Lysol® Disinfecting Wipes: Dual Action
are awesome for that. These arrived at my house with perfect timing. Later that same day there was an incident that involved a crib and a diaper (I'll spare you the details). Needless to say, the crib needed to be cleaned and I needed to know that it was disinfected. The canister of wipes is easy to use with a quick flip-top lid. I loved the wipes, they hold up really well, with one smooth side and one scrubby side you can get some serious cleaning done or just do a quick wipe up. They come in two scents - Citrus and Crisp Linen. We got Crisp Linen and I'm pretty sensitive to scents and this one wasn't overwhelming and didn't bother me while I was cleaning. I've been using them around the house to keep things clean, but I think they would be great in the classroom too since they kill 99.9% of viruses and bacteria and kill cold and flu viruses including Pandemic 2009 H1N1 Influenza A. I wish I would have thought to send these to school with H on the first day - it's day 5 and she's home sick already.
Whether anyone is sick in our house or not, just having kids around has made us
excessive
excellent hand-washers. Sometimes little hands aren't the best at thoroughly washing though and that combined with a germy soap pump can just equal more germs being spread around. The
Lysol® Healthy Touch® No-Touch Hand Soap System
makes hand washing fun, easy and eliminates touching the germy soap pump altogether, as well as blending in with your kitchen or bathroom decor. I chose to put ours in the kitchen since it was the Stainless Look color, but H has been begging me to let her take it to her bathroom. I'll just have to pick up another one for in there. All you do is place your hand under the dispenser and it automatically senses that you are there and dispenses the perfect amount into your hand - love it! Beside the no-germ factor, having children means going through ridiculous amounts of soap (and toilet paper - can they invent an automatic TP dispenser next please?) but the Lysol® Healthy Touch® No-Touch Hand Soap System cuts down on waste, too. Each system is equipped with anti-bacterial soap and is ready to go with batteries installed when you open the package. The moisturizing anti-bacterial soap refills come in four great scents and are easy to pop right in the system when it's time for more soap.
Lysol has made it really easy to keep your house and classrooms clean and germ-free this school season. I think the combination of Lysol® Disinfecting Wipes: Dual Action and Lysol® Healthy Touch® No-Touch Hand Soap System make such great staples to have around for quick, easy, effective cleaning and disinfecting. I will definitely be buying more of both when we run out!
Lysol would like to help you have a happy and healthy house this school year, too. Enter to win your own Lysol® Disinfecting Wipes: Dual Action and Lysol® Healthy Touch® No-Touch Hand Soap System!
Disclosure: As always, all thoughts and opinions are my own. I received product through MomSelect in order to facilitate this review.