So how many of you made it to The Walmart Ice Cream Social last night? The event was from 5:30 - 8:30 pm and we headed over around 7. It was
just
in time, the
Nestle Lil' Drums
ice cream cones they were handing out were so popular our ice cream cones came from the next to last box and then they had to end early. When we got there there was a crowd around the Bright Ideas station where they were giving away the cones and there were a constant stream of people giving them a try.
Once we made it up to the stand Hanna asked for a vanilla cone the lady let us know that they were the first to go and they had
Cookie Dough and Chocolate Fudge Brownie
. Um, YUM! They sounded good but I wasn't sure if they would really be as good as the Classic Vanilla Drumsticks, you know the ones dipped in chocolate with a coating of peanuts. Hanna and Nick went for the Cookie Dough and I tried the Chocolate Fudge Brownie.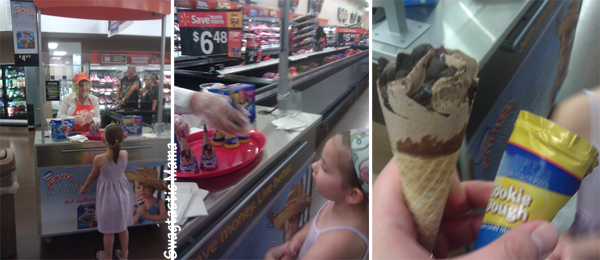 They both loved theirs, I should have sneaked in a taste. Mine was awesome, too. We even let Oliver have some tastes, he loved them both. He's only tasted ice cream once before and it was vanilla. First chocolate!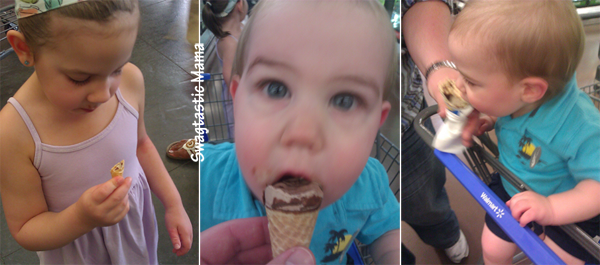 The Nestle Lil' Drums were a total hit with everyone. I loved their size. They were perfect as treat that was kid-sized but also big enough to satisfy my ice cream craving. At only 140 calories they won't crush a diet either. I asked the lady giving out the samples if they were popular and she told me yes, they actually sold out of them in a flash. I was bummed, I really wanted to buy a box while we were there. We headed down the frozen treat isle anyway and I picked up a box of the favorite Classic Vanilla Drumsticks. I'm going to be sure to check and see if the Lil' Drums are back in stock next time I'm there though.
We picked up a few more groceries and headed home. As we were leaving I noticed the
10¢ off per gallon of gas
display. This Walmart doesn't have a Murphy USA near it but there are a few others around. The Walmart Ice Cream Social was a fun addition to our shopping and it was great to find a new treat that we all liked!
Disclosure: This shop/project has been compensated as part of a campaign for Nestlé. As always, all thoughts and opinions are my own.