It's been a busy year for us this year when it comes to teeth. I think it might even be the
most covered topic on Southern Yankee Mix
. Little Oliver got his first tooth at 3 1/2 months and he just turned 1 with 8 teeth in his mouth. He's currently working on some seemingly gigantic molars on the bottom and has been cranky enough to prove it. Hanna lost her first tooth at the end of last summer and just lost her 5th one the other day. She has quite the smile right now!
This is embarrassing to admit, I broke a tooth a few years ago and just kind of let it go and didn't take care of it. I didn't make visiting the dentist or my teeth a priority and because of it my mouth is a hot mess. A few months ago I got the first few things, of many to come, fixed in my mouth. I had to have 2 root canals, 2 crowns and a handful of fillings. I have huge list of procedures that over the next year, possibly two, depending on insurance coverage and finances, that I'm going to be having done. Do I regret not taking the time to take care of myself like I should have been? Big time. What could have been small fixes if they were caught in the beginning have turned into much more than they ever should have been.
I have however been good about making sure my kids teeth are getting taken care of. (Why is it so much easier to take care of other people when you are a mom?!) With Hanna, she got her first tooth at 4 months, we started brushing with one of those tiny baby toothbrushes right away and have done the same with Oliver. It's never too soon to start. I'm not always very good at taking care of myself, but I'm working on it. I realize that little eyes are watching what I'm doing as their mama and they will in turn do the same. It's so important to establish healthy habits right from the beginning!
I was excited to learn about the
Colgate Building Smiles tour when we visited Walmart
the other day. Colgate has a tour bus traveling around the country that is staffed with dental professionals offering free dental exams as well as encouraging and educating kids and families on how to have good oral care.

We boarded the bus and were greeted by the friendly staff. We spent some time learning about how to keep our teeth healthy. Hanna got a little encouragement to stop sucking her thumb, practiced brushing some giant chompers and even got a one-on-one flossing lesson! Most stops have dentists on the bus giving free exams, too. However, there wasn't one at our particular location. Too bad, Hanna was excited to show off her latest wiggly tooth. Both kids were given goodie bags that had a fun tooth-brushing chart, some tips to keep your mouth healthy, coupons, a new tooth brush and a toothpaste sample. Here's a few tips that the kids were given on the bus:
Choose water over sugary drinks - it's good for your body and your teeth!
Be sure to brush your teeth and gums at least twice a day for two minutes and visit your dentist twice a year for regular oral exams. (2x2x2!)
Floss your teeth daily.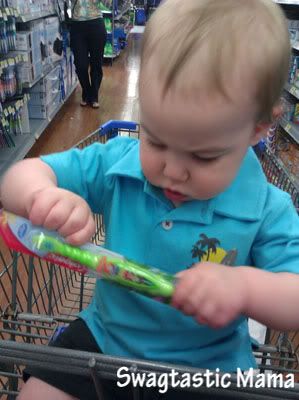 After we finished our little visit on the Colgate Building Smiles tour bus we headed into Walmart to pick up a few things and stopped by the oral hygiene isle. Oliver got a new tooth brush and Hanna convinced me to let her get a spinning, electric, Little Mermaid tooth brush along with some kids flossers. We headed home and Hanna couldn't wait to brush her teeth with her brand new toothbrush. Once she was done she made sure to check off that she did it on her new brushing chart we got on the bus. What a fun, educational and healthy experience for her!
For more information about the Colgate Building Smiles tour:
Disclosure: This post has been compensated as part of a social shopper insights study for #CollectiveBias. As always, all thoughts and opinions are my own.